Press Release
Warning! An Excessive Heat Wave Is Going To Hit California Today Through Sunday
Warning! An excessive heat wave is going to hit
California today through Sunday
Please review the following suggestions to keep cool, stay safe and avoid life threatening heat illnesses. (Para español clic, aqui).
Excessive heat watches and warnings are in effect across the southern half of the state, with additional watches, warnings, and advisories possible farther north, including the San Joaquin Valley.
"Heat-related illnesses such as dehydration, heat exhaustion and heat stroke, as well as respiratory problems, are among the potentially dangerous effects of extreme heat," said California Health and Human Services Secretary Dr. Mark Ghaly. "But as with earthquakes, floods or other natural weather events, Californians can better protect themselves and others with a few simple tips."
Californians are encouraged to follow these tips to stay safe during extreme heat events:
Stay cool. Close shades, windows and blinds. Set air conditioners between 75 and 80 degrees. If air-conditioning isn't available, find local cooling centers or other air-conditioned public space (libraries, shopping malls, community centers, etc.). Try to stay indoors and wear loose, light-colored, lightweight clothing. While spending time in the water is refreshing on hot summer days, many California rivers are running faster, while lakes are deeper and colder than they've been in recent years. This makes them more dangerous than normal, even for strong swimmers.
Stay hydrated. Drink at least 2 cups of water every hour even if you're not feeling thirsty. Avoid alcoholic or caffeinated drinks.
Look after each other. Check in on friends and family, especially elderly relatives or neighbors. Call 911 if there are signs of high fever (103°F or higher) or in case of other emergencies.
All of California will be impacted. The National Weather Service's HeatRisk Prototype is a helpful tool to assess areas of impact. Follow local weather forecasts and find local cooling centers here.
Visit HeatReadyCA.com or CuidateDelCalorCA.com for more tips and resources. The websites offer tips and resources for Californians, including people most vulnerable to heat-related health concerns, such as older adults, people with disabilities and chronic conditions, pregnant people, young children, urban residents, and those without easy access to air conditioning or natural shade, among others.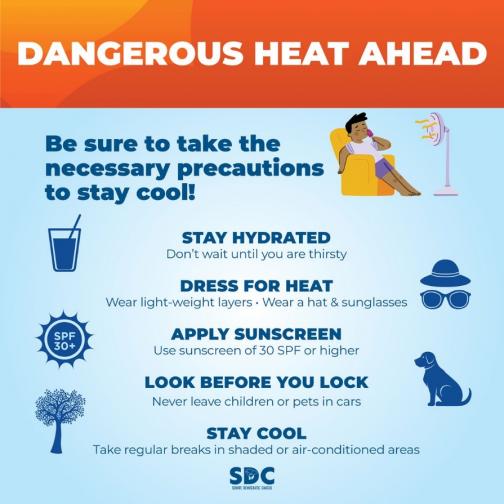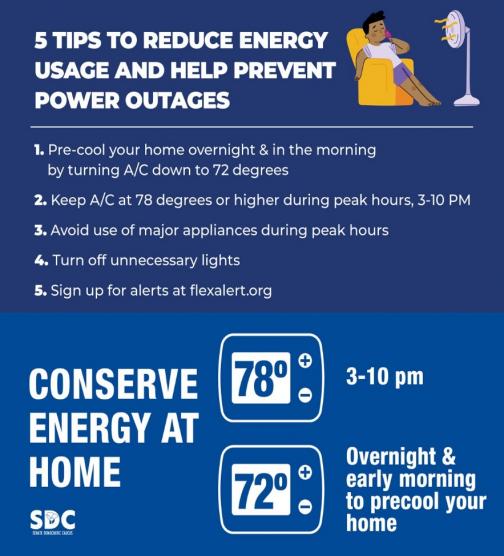 More Useful Information on Major Heat Risk:
The National Weather Service has issued excessive heat warnings throughout California, including inland areas of the Bay Area and the Central Coast. This forecast is expected to last from Friday to Sunday, with temperature peaks as high as 113 degrees. The worst of these warnings have been issued in both the Central Valley and Southern California. Click here for the entire list of heat advisory warnings across the state. Click here to use the National Weather Service's HeatRisk Prototype to identify risk for a given community.
National Weather Service Forecast Office - Sacramento, CA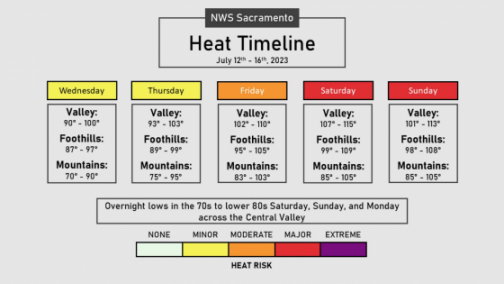 National Weather Service Forecast – Office San Francisco, CA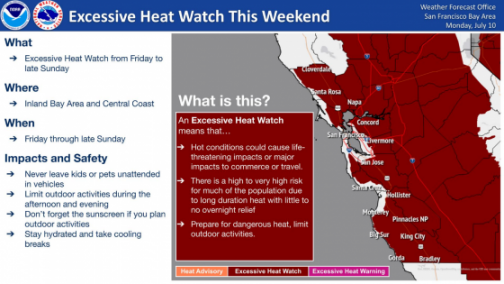 National Weather Service Forecast Office – Hanford, CA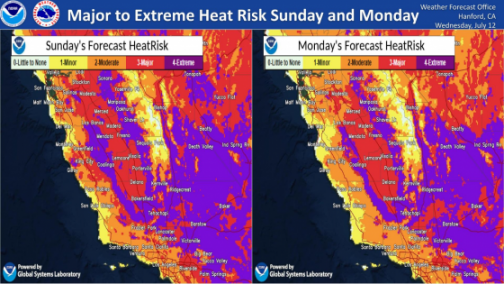 National Weather Service Forecast Office - Los Angeles, CA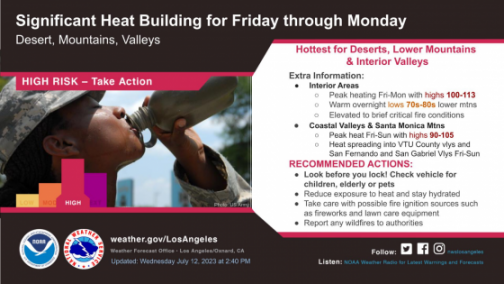 Protections for Outside Workers
Employers in California must comply with Cal/OSHA's heat illness prevention standard, which applies to all outdoor worksites. The standard requires employers to provide outdoor workers with fresh water, access to shade at 80 degrees, and cool-down rest breaks in addition to regular breaks. When the outdoor temperature in the work area exceeds 80 degrees Fahrenheit, the employer shall have and maintain one or more areas with shade at all times while employees are present. Employers must also provide training on heat illness prevention and develop an effective written heat illness prevention plan that includes emergency response procedures. Click here for more information on heat illness prevention.
Risk of Wildfire
Hot and very dry conditions will elevate the potential for wildfire this weekend. New fires and rapid plume-dominated fire growth are much more possible under these conditions. Since the year began, CalFIRE has already responded to 3,032 wildfires that have burned a combined 10,450 acres. In fact, four of these wildfires started on Tuesday. The risk this weekend is real. Click here for Grill fire safety video.
Stay safe. Stay cool. Hydrate.
###