In The News
'Staggering solidarity': How California's summer strikes broke down wealth, class barriers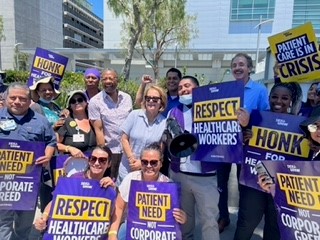 L.A. Times
In Los Angeles it's rare to see actors and housekeepers standing shoulder to shoulder on picket lines, or TV writers standing behind UPS drivers fighting for better pay.
Yet such signs of solidarity across social classes are prominent features of what some are calling a "hot labor summer" sweeping California. Strikes have ground Hollywood to a halt. At the same time thousands of workers who make the city run are putting pressure on employers to pay living wages in an increasingly unaffordable state.
"There's staggering solidarity," said Lorena Gonzalez Fletcher, head of the California Labor Federation. "I think it's in levels we haven't seen before. If you look at the difference between what a fast food worker makes and a writer makes, it's smaller than the difference between what either of them makes and their CEO."
This week alone more than 11,000 city workers plan to strike at several locations in Los Angeles, and hotel workers are expected to continue their "rolling strikes" that temporarily target various hotels.
It's hard to say if the inter-union unity will work, experts say. Some employer groups haven't returned to the bargaining table after weeks or months of strikes.
UPS recently reached a tentative deal with the Teamsters, averting what would have been a historic national strike. And recently, the group representing Hollywood studios met with striking TV writers about bargaining.
Unity across classes
Across-class solidarity isn't the only factor boosting labor actions, union leaders and experts say. The size of the unions involved and an overwhelmingly union-friendly state Legislature also are bolstering the efforts of tens of thousands of organized workers.
So far this year there have been 53 labor strikes in California involving 276,340 participants, according to Cornell University's Labor Action Tracker. That doesn't include strikes that began last year.
In 2022, there were 96 strikes with 92,527 participants, and in 2021 there were 52 strikes with 64,849 participants.
Participant numbers could be an overcount because they may include the overall membership of unions on strike, said Johnnie Kallas, the labor action tracker's project director and a PhD candidate at Cornell's School of Industrial and Labor Relation.
An example is The Screen Actors Guild – American Federation of Television and Radio Artists. It has 160,000 national members, but not all of them are striking in California.
Also fueling strike activity are such major union players as Unite Here Local 11, which represents 15,000 hospitality workers mostly in Southern California, and the Writers Guild of America, which represents 11,500 writers on strike.
On a recent sweltering July day outside the Warner Bros. Studio in Los Angeles, Maria Gonzalez, a housekeeper, led about 20 domestic workers with the National Domestic Workers Alliance in a march along a picket line.
Though the domestic workers were dwarfed by the number of actors and other screen actors guild members surrounding them, their chants were loud and clear.
"When I say union, you say power!" they shouted. A screen actors guild picketer called back "Power!" throwing a fist in the air. Another actor waved and said "Hey!" in appreciation.
"I think we're united because they, like us housekeepers, are working out of necessity, and we need to survive in this world," Gonzalez said. "Nothing is free. The most important thing is to sustain our families. Unity makes us strong."
California Democrats back strikes
Some California lawmakers are fanning the unions' flames. Strikes have drawn  politicians to join picket lines, including Sen. María Elena Durazo, a Los Angeles Democrat who championed Unite Here Local 11.
"What you are doing today is saying to the hotel industry that enough is enough — Ya basta," Durazo told hotel workers during a June protest ahead of planned strikes. "Workers deserve a decent life. We will keep fighting until workers get the living wages they deserve."
Democratic Assemblymember Wendy Carillo of Los Angeles and City Council members Nithya Raman and Hugo Soto-Martinez were among 200 people arrested at the protest while showing solidarity with hotel workers.
More recently elected officials, including Lt. Gov. Eleni Kounalakis, supported Unite Here by publicly pressuring Taylor Swift to postpone her Eras tour shows in Los Angeles.
And in May, state Sen. Tom Umberg, a Democrat from Santa Ana, introduced a constitutional amendment to make unionizing a right for all California workers. The amendment needs two-thirds approval in both state houses before it can be placed on the November 2024 ballot.
"If the voters overwhelmingly approve it, and I think they will, it sends a message to employers and employees that Californians in general feel workers should have the right to organize," he said.
If passed, it would enshrine in the state constitution the right to organize and negotiate with employers, including governmental employers, and it would invalidate laws and ordinances that violate those rights.
Umberg said protecting organizing rights is important because Congress and the Supreme Court recently have shown a willingness to roll back federal rights, including rights for women and LGBTQ communities.
Speaking up at summer strikes
Supported by politicians, many workers felt emboldened to speak up for themselves and each other. The same morning domestic workers joined actors at Warner Bros., striking writers joined UPS workers in a rally at their downtown Los Angeles warehouse.
The Teamsters were preparing to strike for better pay, particularly for part-time warehouse workers who make up the majority of their workforce. Writers, dressed in blue, stood behind Teamsters, who wore black union T-shirts or brown UPS uniforms.
Teamsters General President Sean O'Brien appealed to the groups' sense of unity.
"I have a message for those white collar crime syndicates in Hollywood known as Amazon, Netflix and the rest of them: When you take one of us on, you take all of us on," O'Brien said.
Oliver Sierra, who has worked for UPS for 10 years, said stress from working long hours during the pandemic hasn't gone away. Customers as late as 10 p.m. stand in front of his delivery truck, demanding their packages, he said.
Sierra said his message to the writers supporting the Teamsters amid their own strike: "I just want to say thank you for supporting us."
Christopher Keyser, president of the Writers Guild of America West, told the delivery drivers, actors and writers at the rally that all they want the same thing — to work.
"To find joy in that work, to have the resources to care for our children and for our parents, to retire with dignity," he said. "If heaven does not distinguish between those who cash the checks and those who write them, why should people?"
A bargaining deal
The threat of a major national strike seemed to be enough for UPS to come to the bargaining table. On July 25, UPS and the Teamsters reached a tentative five-year agreement, avoiding what would have been the largest national strike in recent decades.
UPS CEO Carol Tomé said in a statement the agreement "continues to reward UPS's full- and part-time employees with industry-leading pay and benefits" while allowing the company to stay flexible and competitive.
The Teamsters called the deal "overwhelmingly lucrative." It features a $2.75 hourly raise this year for full- and part-time UPS employees and $7.50 per hour over the length of the contract. Part-time employees will earn at least $21 an hour.
The summer strike wave may cause ripple effects with non-unionized companies, said Nelson Lichtenstein, research professor directing UC Santa Barbara's Center for the Study of Work, Labor, and Democracy.
"FedEx doesn't have a union and Amazon doesn't have a union, but nevertheless they're going to have to meet the wage standard," Lichtenstein said.
Meeting about a meeting
A long-awaited meeting between writers and the studios to prepare for negotiations recently went wrong. On Aug. 4, the writers group and the group representing studios met for the first time in months to discuss negotiation protocols and preview issues each side was to discuss.
The studio group asked that neither side make statements about negotiations to the press. According to a letter that the writers' group sent to members, before anything was decided the studios leaked details about the meeting to the press. The writers union also said the studio group was unwilling to engage on key demands, such residual payments to writers.
The group representing the studios in the negotiations did not respond to a request for comment.
William B. Gould IV, a Stanford law professor emeritus and former chair of the National Labor Relations Board, said the benefits of cross-class solidarity will show over time if it helps unions expand organizing efforts.
"That this is happening amongst so many workers is a positive, but it's difficult to determine whether this would have any impact on a given set of negotiations," he said. "It might in some circumstances and it might not in others."
At least from the perspective of L.A. hotels, it so far hasn't made much of a difference.
Keith Grossman, an attorney representing a coalition of hotels negotiating with the Unite Here union, said the rolling hotel workers' strikes "are misguided and have changed nothing although they undoubtedly have and can in the future hurt our employees."
Hotel picketers last weekend clashed with security staff at the Fairmont Miramar Hotel and Bungalows in Santa Monica. Videos on social media show Unite Here picketers being tackled to the ground.
Hotel workers have been on and off strike since early July. They say they have felt betrayed by their employers.
Feeling betrayed
Mirna Miloto, a phone operator for a Sheraton hotel in L.A., lives in Downey with a roommate and cuts hair in people's living rooms to afford rent.
"I would like to live alone but I can't pay rent by myself," she said. "We don't earn enough and they don't want to renew our contract."
Milioto said she is still hurt by the unpaid furloughs she and her colleagues endured during the pandemic, despite their hotels receiving federal financial aid. Hotels still haven't rehired to full capacity, she said.
Workers already were struggling, but the pandemic shined the light on corporate greed, said Kent Wong, director of the UCLA Labor Center.
"You have people like Elon Musk and Bezos, who, as their workers are dying on the front lines, are spending billions for a joy ride in outer space," Wong said. "There is no illusion among workers today that corporate America cares about them or is going to provide for them."
Unite Here is seeking an immediate $5 raise and an additional $3 raise over the next three years. The Westin Bonaventure, Los Angeles' largest hotel, has tentatively agreed to their terms, but other hotels are holding out.
Grossman said the hotels' last offer was a $2 raise upon contract ratification, another $1 within 11 months and a total of $6.25 hourly over less than four years — plus up to $1.50 an hour to maintain affordable health care coverage.
The hotels have said Unite Here is not bargaining in good faith. The hotels' group and the workers' union have filed unfair labor practice charges against each other.
And hotel workers weren't budging on their demands. In early August, for the fourth time this summer, employees of dozens of LA hotels walked off the job.