Press Release
California State Parks Off-Highway Vehicle Grant will help MRCA prevent illegal off-roading with increased ranger patrol, barriers, and community outreach.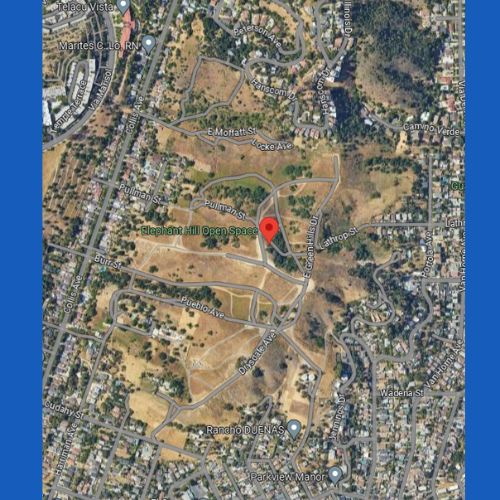 I am excited to announce El Sereno's Elephant Hill Open Space, one of three parks managed by the Mountains Recreation and Conservancy Authority (MRCA), which will receive $1.2 million through the California State Park's Off-Highway Motor Vehicle Recreation Division to restore and protect urban parkland. As part of restoration efforts, the MRCA will install fire gates, boulders, railings, signage, and increase ranger patrol using site-specific off-road equipment. The goal is to keep off-highway vehicles from sensitive areas and preserve the natural habitat for the local community to safely enjoy. Off-roading activities also create wildfire ignition risks, which poses a great risk to homes and the families who live in them. This grant aims to protect the land and its adjacent communities. 
Elephant Hill Open Space is part of a natural hilltop area. It is considered an island of habitat in the historic Northeast Los Angeles community of El Sereno. The MRCA manages eight acres, including a heavily used trail along the Los Angeles and South Pasadena city-owned properties. "In the past few years, there has been a huge increase in illegal Off-highway Vehicle use at Elephant Hill, which is in the middle of a neighborhood," said Deputy Executive Officer Fernando Gomez, Chief Ranger of the MRCA. "Illegal off-road vehicles put the park users and the vehicle drivers in danger while causing close-in erosion and killing the habitat. This activity increases the risk of a brushfire, which could devastate all the homes around it," as well as endanger the lives of families who live in them.
 The nonprofit Save Elephant Hill will receive $150,000 to educate the community on the social and environmental impacts of illegal OHV activities and highlight the MRCA's restoration efforts.
"We're very grateful to the California Off-Highway Vehicle Motor Vehicle Division for providing MRCA and Save Elephant Hill an amazing opportunity to address unauthorized off-roading on Elephant Hill," said Elva Yañez, Board President of Save Elephant Hill. "This grant allows us to partner with other community-based groups concerned about land use and the environment, to increase community awareness about the damage caused by people riding trucks, motorcycles, and other vehicles on the Elephant Hill Open Space Area managed by MRCA. Our goal is to educate residents and other stakeholders about the common goal of protecting Elephant Hill's habitat – the soil, native plants and trees, and the many species of animals and birds that make their homes here—from off-roading."
Off-highway vehicles in our parks destroy natural habitats, induce wildfires, and pose a threat with bushfire in our community. Children and families living in this area should feel safe. These green spaces are vital, providing recreation and fostering community in El Sereno.